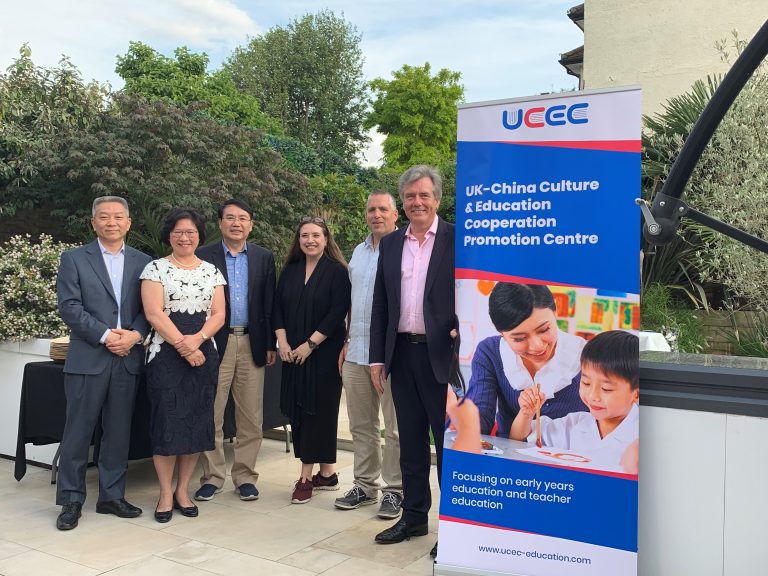 From left to right: Jianwei Zhou, Christine Lee, Counsellor Wong (Education Department of the Chinese Embassy, Dr. Clare Brooks (UCL IOE), Jeremy Todd (Family Lives), Neil Carmichael
On 18th of July, 2019, Neil Carmichael, Chief Executive of UCEC, invited the Chinese Embassy Education Department as VIP, our partners from the UCL Institute of Education, and a number of other education organisations to hold the launch opening of UCEC.
During the opening, Neil expressed his vision and values about setting up Children Development Centres in China, to improve early years education, family education, and teacher education in China through UCEC, with support from UCL's Institute of Education, Family Lives, Activate Learning, Triple P, and more. 
Effective early childhood education balances stimulating playful learning sessions led by adults with child-led play and creativity. UCEC will focus on Play and Creativity in early years education, with particular attention on Family, Community and Partnership to ensure every child has the best possible start in life, and every family lives happily and healthily in both mind and body. 
Counsellor Wong, from the Education Department of the Chinese Embassy, explained that by the time a child is just 5 years of age, the brain has undergone 85% of its development. As such, Counsellor Wang expressed his support of UCEC's mission, to take this relatively short window of opportunity to provide the best, high quality childhood education environment in China for as much learning and growth as possible.  
Jianwei Zhou, Chairman of UCEC, and Christine Lee, Vice-Chair of UCEC, expressed their enthusiasm for early years education and family education in China. More and more research is showing that quality early education opportunities have lifelong benefits not only for children, but for society in general.